MASS SCHEDULE:
Saturday: 4:00 PM English / 7:00 PM Spanish
Sunday: 8:00 AM & 10:00 AM English / 12:00 PM and 2 PM Spanish
Monday through Friday: 9:00 AM English
We will continue to stream via Facebook Live, so homebound parishioners can participate in Weekend and Daily Mass.
www.facebook.com/staugustinebrighton
CONFESSION SCHEDULE:
Monday Through Friday: 8:30 am
Saturday 2:30 – 3:30 pm
Confessions are heard either in the side confessionals or in the cry room.
For Anointing of the sick please call our sacramental emergency line at:
303-659-1410 x191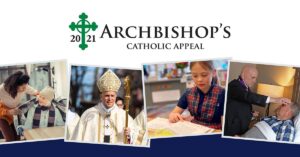 Please consider making a contribution to the Archbishop's Annual Appeal!
For more information and/or to donate Click Here! 
Christmas Eve Masses


4:00 PM English Children's Mass
6:00 PM English Mass
8:00 PM Spanish Mass
Christmas Day Masses
9:00 AM English Mass
11:00 AM Spanish Mass