MASS SCHEDULE:
Saturday: 4:00 PM English / 7:00 PM Spanish
Sunday: 8:00 AM & 10:00 AM English / 12:00 PM and 2 PM Spanish
Monday through Friday: 9:00 AM English
CONFESSION SCHEDULE:
Monday Through Friday: 8:30 am
Saturday 2:30 – 3:30 pm
Confessions are heard either in the side confessionals or in the cry room.
We are now celebrating Masses inside the Church with all safety precautions in place.
We will continue to stream via Facebook Live, so parishioners still practicing 'safer-at-home' can still participate in Weekend and Daily Mass.
www.facebook.com/staugustinebrighton
Precautions
Please note that every other pew is blocked off and there are marks on each open pew, 6 feet apart, to help us to maintain social distancing.
The church is being cleaned multiple times a day, especially sanitizing after every Mass,
and please remember to wear a mask.
For more Information on Covid-19 Vaccine Click Here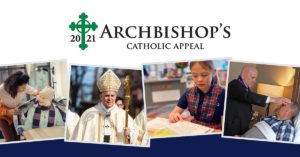 Learn more about the annual Archbishop's Annual Appeal, there are so many wonderful things The Arch Diocese of Denver does with our generous donations! For More Information Click Here!